Now's an excellent time to start a business and build a new stream of reliable income. One key to success is choosing the right business idea — preferably one that won't take too long to bring revenue. Luckily, there are quite a few businesses that make money right away, so you can start earning profits in mere weeks or months.

In our experience running online businesses and seeing the success of our clients and friends, these are the 6 top business models that we know can earn income in 90 days or less:
6 Businesses That Make Money Right Away
Here's an overview of the business models, the steps you need to take to get started, and how quickly you can expect money in the bank from each. Ready to own your own business? Let's get started.
1. Freelancing
If you want to start making money right now, freelancing is one of the best ways to start a small business online. Freelancing has almost zero overhead costs to get started. All you need are some skills and an internet connection to start. Here's how to get started:
Pick Your Niche
First, you need to choose a single skill that you have (you likely have many) and turn that into your freelance niche. People work online doing all sorts of things, like:
Writing
Editing
Translation
Data Analysis
Marketing
Art and graphic design
Customer service
Business management
Transcription
Data Entry
Consulting
Video Editing
Software design
Virtual Assistant
And more
Pick a niche that best fits your skills and interests.
Set Your Rates
The next thing you need to do is decide how much you want to get paid for your services. Most freelancers charge one of three ways:
Per hour — You charge an hourly rate for your services and track time spent to bill clients. For example, a video editing project that took 20 hours to complete at $70/hour means $1400 billed.
Per project — You charge a custom flat fee for each client project. For example, a book cover design project costs a flat fee of $1200, all service included.
On retainer — You charge a set monthly rate for ongoing client services, paid in advance. For example, a client pays $3,000/month for remote business management services.
Start Pitching Clients
If you're in a hurry to start growing your online income, freelancer job sites are the best places to find clients fast. If you sign up for a freelancer job site like Upwork, Freelancer.com, Guru, or PeoplePerHour, you can create a professional profile and start applying for gigs right away. These platforms are full of people and businesses who want to hire freelancers like you.
Once you're hired through the platform, your client will put funds in escrow that will be released to you on successful project completion.
When You'll Get Paid
In less than 2 weeks. It depends a bit on the freelancing platform, but once a client has released funds, they should be processed and sent to your bank account within about 10 days.
2. Coaching and Consulting
We have to recommend coaching and consulting as a business opportunity because that's what we do ourselves! It has been a profitable business for us for many years.
If you have valuable knowledge on a topic that other people want to learn about, and you enjoy mentoring others, then coaching or consulting could be the niche for you.
Choose Your Niche
You can become a consultant in just about any topic area. Here are some of the most popular and lucrative consulting niches you can get into:
Business management
Fitness
Nutrition
SEO Strategy
Google Ads
E-Commerce
Facebook Ads
Life coaching
Branding
Relationships
Mental health coaching
Digital marketing
Grant writing
Dog training
And more
There's no need to be the world's best expert in a subject to succeed as a consultant. You just need to know substantially more than your clients do and offer honest, valuable advice they can use.
Set Up Your Platform and Services
Once you've chosen your consulting niche, you need to create a website where you'll explain your expertise and detail what consulting services you offer. You'll do all your consulting remotely over the phone. By way of example, at our consulting business Safely Leave the Rat Race, we allow people to book several one-on-one consultation calls with us for a flat fee:
Or clients can sign up for a monthly package including a series of mentoring calls: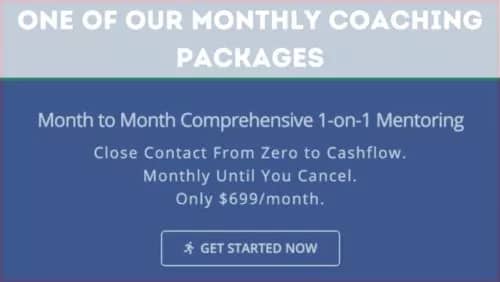 Whatever you choose, make sure your rates and services are clear on your website.
Start Attracting Clients
If you want to get consulting clients quickly, referrals and networking are your best strategies. Ask your friends and colleagues for referrals, and participate in events (online and off) that your target audience might attend. You can pitch your services to the new connections you make.
When You'll Get Paid
Within 30-60 days. You can get paid as soon as you land a client. You should always ask new clients to pay your fee ahead of the consulting call using your favorite payments tool (we like PayPal). You'll get paid as soon as the transaction processes, often days before your scheduled consultation.
3. Ebook Businesses That Make Money Right Away
If you're an avid writer or have skills/experience that would be valuable to others, you can start earning money online by writing ebooks. It's actually quite easy to get ebooks published and selling online with minimal investment.
Create Your Book
The first step is of course to write your book! If you're interested in this online money-making niche, you probably already have some idea of what you'd write about. If not, think of an audience pain point you could address with your knowledge. Write about something you're knowledgeable about and that other people want to learn about.
Once you've written your book, you should get it professionally edited and get a cover created for it. You can do both these things easily by hiring freelancers on Upwork, Fiverr, or 99Designs. It shouldn't cost more than a few hundred dollars.
Publish It Online
The next step is to publish your book online. There's 2 main ways to do this:
Publishing Through Amazon
Publishing On Your Own Website
Each strategy has its own benefits. It's easy to publish your ebook on Amazon. Your book will also appear in Amazon search results and get promoted on the site. However you will have to pay Amazon a cut of your earnings.
If you publish on your own website, all the profits are yours. You also need to create a website, which will cost a bit of money for domain registration and design (we're talking a few hundred dollars, max).
Here are a few examples of ebooks that we sell directly from one of our websites about strength training:

Start Promoting Your Book
Once your book is published, you should make efforts to ensure it gets seen and purchased. You can share your book on social media, appear as a guest on niche blogs and podcasts to promote your book, and do other types of networking to get visibility. You can also encourage people to purchase by having a special launch promotion or including give away bonuses to make the book even more valuable for readers.
When You'll Get Paid
Within 30-60 days. How quickly you'll get paid for your book sales depends on how you published. Amazon pays authors their first royalties within 60 days of publishing. If you're selling your book on your own website and accept PayPal payments, you could get paid as soon as someone makes a purchase!
4. Online Courses That Make Money Right Away
Creating an online course is one of the top money making businesses today. Online courses are also easy to manage — once you've created the course and start promoting, it can bring in passive income for years to come.
Here's how to get started:
Create Your Course
The first thing to do is pick a targeted topic for your course and create the course material. Think of a problem people have that you know how to solve, or a topic that you're an expert on that people want to learn about.
Your course can be either a text course (written content), a video course, or a combination of the two. Create your course in the format that you're most comfortable with and that your audience would like the most.
Publish It
There are two ways to publish your course online:
On a third-party platform (like Teachable)
On your own website
Each option has its benefits. If you use Teachable, your course will get seen by the many people who visit their platform every day. You can also share your Teachable course anywhere on the web. If you host your course on your own website, you have complete control over it. You also won't have to pay a monthly fee to Teachable or another third-party platform.
Start Promoting
If you want to get people to sign up for your course quickly, you need to promote it. Networking and recommending your course to people is a great way to start. You can also invest in paid advertisements to promote it on social media. Consider doing a launch sale discount to encourage early purchases.
Once you have customers buying your course you can even create an affiliate program for it. Then other websites who employ affiliate marketing in their business model can promote your course and earn a commission for helping you sell your course.
Course creation is a business model that we use in our businesses as well and we feel like it's one of the best business ideas to make money online. Once you've got a solid course, you work really just consists of promoting it to the audiences who need it.
When You'll Get Paid
Within 30-60 days. If you promote your course, you should expect your first students to purchase it within 30-60 days. Once they do, payments can be available to you in as little as a few days. Teachable uses Stripe and Paypal to deliver payouts either daily, weekly, or monthly.
5. SaaS Product or App
Creating your own software-as-a-service (SaaS) product or app is one of the top businesses that make money right away. What a lot of people don't realize is that you don't need to have any tech or development skills to create and sell your own software or app. You just need an idea and then hire someone to develop it for you.
Create Your Product Idea
You need to create a software product that people actually want and need. In order to do this, you should focus on a single pain point people have, then come up with a software idea as a solution. Talk to people in your target audience about this idea, to see if it sounds like a solution they want.
Get Your Software or App Made
Creating software or an app is actually quite easy these days. You can hire a developer on Upwork or another freelancer site. Work with a real expert, and they will help make your idea a reality.
Launch In Closed Beta
If you want to earn income quickly from your SaaS product or app, then you should launch it in closed beta. This means you select a group of 100 or so individuals to test out your product before it becomes available to the rest of the world. Charge them a discounted price for access, in exchange for providing feedback about your product's performance. It's the best of both worlds: You get paid quickly and get valuable user feedback about your product to make it even more valuable for your audience.
Once the beta period is over, you can make any necessary changes to your software then go for a full launch.
When You'll Get Paid
Within 60 days. You can get your software product from idea to creation in a matter of weeks. Then with your beta launch, you can expect your first earnings within 2 months. You can look forward to even more income from your full launch, between 6 months to a year after you first come up with the idea.
6. Dropshipping
Dropshipping is a special way of running an e-commerce store where you don't have to store the items you're selling. Instead you run the online platform to sell the products, and work with a supplier or the manufacturer to ship the items. Running an online store can be a very lucrative business and it doesn't take much time to get up and running.
Pick a Product Niche
To get started, the first thing you need to do is figure out what kind of products you're going to sell. You don't want to sell items that people can easily get from Amazon or a local retailer in town. Your niche should be very specific, such as selling specialized sports equipment or high end furniture. You need to find a manufacturer or another third party company that will provide storage and shipping, but that's not very difficult.
If you need a beginner dropshipping business model tutorial we have created one.
Build Your Website
Next you need to create your website where you'll sell your items. Creating your own website is easy, but for the eCommerce aspect, you will want to use a tool like Shopify or BigCommerce. These can help you easily create product listings and process payments through your website.
Start Attracting Customers
There are lots of strategies you can use to attract customers to your website and drive sales. If you're in a hurry to start earning revenue, then we recommend investing in paid advertising. Facebook ad campaigns are one of the most effective ways to get eCommerce customers, and one of the quickest. You can also look into Google Shopping Ads to get visibility for your products in search results.
When You'll Get Paid
Within 60-90 days. It will take a few weeks to find suppliers and get your store up and running. Once you start displaying ads for your products, you should expect to have sales in less than 90 days.
Conclusion
Have these online business ideas piqued your interest?
Learning how to make money in a business online is hard when you know the basics of how an online business works. What most people don't realize is that when starting a new business, it's not necessary to reinvent the wheel. People become business owners online every day.
Even if you're starting from scratch with one of these business models, you can still generate income in mere weeks or months. All you need is a good idea and some infrastructure that's already in place to help you launch and profit quickly.
Want to know more about our videos and courses?

Subscribe to get our latest content by email.