A Risk-Free Path to Online Income
There are probably millions of people who want the lifestyle provided by making money online while sitting at your computer in the comfort of your own home.
It means no expensive commute to work, no irritating and stress-inducing co-workers, no office politics, the ability to craft your own schedule around family priorities, and so much more.
Did you know there's a way to to get all that without being entrepreneurial, or creating your own online business?
For some people, this is a perfect way to safely leave the rat race. For others, it's a great way to test the lifestyle to see if they like it. Or to hone their skills as a step toward going on their own later.
How?
There are thousands of companies that hire people to do work from the comfort of their own home and often on their own schedule.
We can show you how to get hired by over 200 of the best ones.
We have sifted through these companies and curated the ones who have a longer track record and a good reputation, including 100 Fortune 500 companies that hire tens of thousands of new people every year.
And you know these big companies will pay you like clockwork.
You can read about our new course, How to Get Hired by Over 200 Companies for Work at Home, at this link.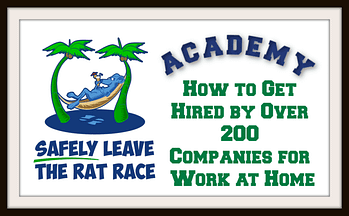 [ultimate_spacer height="100″]